Parkettmanufaktur: Bespoke floors for a discerning market.
While we have been using wood and timber as a construction material since the beginning of recorded history, the use of timber as a flooring material is actually much more recent as, up until the Middle Ages, packed earth, stone or brick was more common, especially at the ground level, with rough hewn timber floors being used above ground level.

During the Baroque Era (1625-1714) timber flooring started to become a decorative item as French parquetry and marquetry patterns began to appear. These floors were made from pieces of wood cut by hand and fitted together in contrasting three-dimensional designs. Then they would be scraped by hand, rubbed with sand, stained and polished to a sheen.
This was a time-consuming and costly process and only royalty or the most affluent merchants could afford flooring of this calibre. Those less wealthy could imitate high-end flooring designs through the use of painted finishes but the rest of us made do with what we had.
Then came a revolution in flooring in the 1960s with the invention of engineered timber floors.
"The term 'engineered timber floor' is a bit of a misnomer, as the 'engineered' part refers to the method of construction; it is still an entirely genuine wood floor. The difference between an engineered floor and a solid timber floor is that the engineered version comprises multilayers of real timber with the selected species on top," says Richard St John, Operations and Sales Manager, HARO Flooring, New Zealand.

Parkettmanufaktur: when only the best will do
"Of course, not all engineered flooring is created equal, so it pays to shop around before committing to a particular product," says Richard.
Launched by HARO Flooring Germany in 2006, parkettmanufaktur is the company's handcrafted, premium engineered product.
"'parkettmanufaktur' is a special label and denotes the bespoke nature of the product. The range comprises four product categories—XL Boards; Carré; Strip Parquet and Parquet Tile—and each is available in a range of colours and surface treatments.
"One of the attributes of parkettmanufaktur, is the depth of colour that has been achieved. The process involves multiple applications of natural colour, which creates attractive nuances in the finish. For example, one of our colour options is Carbon Black, a true black that creates a dramatic statement in a room.
"Also, because the colour runs all the way through the product, parkettmanufaktur exhibits higher UV and scratch resistance. Any scuffs and scratches are not as noticeable and, should the floor need to be sanded at any point, the colour is preserved, greatly increasing the lifecycle of the product."
Making an artistic statement with your floor
Richard says the four product categories have been specifically chosen to offer homeowners the broadest possible choice based on their own individual tastes.
"Our XL Boards range is an oversized plank-style offering measuring 305mm wide and more than 3000mm long and is an ideal choice for large, open-plan spaces. Customers can choose from 18 different colours and further customisation is also possible, by choosing from one of seven surface treatments, including hand scraped, brushed and frame sawn.
"Our Carré range is a striking alternative to traditional cross-grain formats in that it consists of a multitude of end-grain veneers on top of the core, highlighting the formation of rings within the timber. This product is available in standard plank formats and a range of colours.
"The Strip Parquet range is a shorter, narrower plank that allows homeowners to create design patterns such as herringbone and chevron, which is very on trend currently.
"At the top end of the parkettmanufaktur range, is the Parquet Tile. Available in four classic designs—Basket, St Andrew, Loop and Central, these stunning patterns exhibit the highest level of craftsmanship. The tiles are 650mm x 650mm and 18mm thick and comprise a beech middle layer on an oak base. The wear layer selection includes Ash, Oak, Merbau and American Walnut."
Peace of mind that comes with quality
While the product has been available for some time in New Zealand, Richard says they have been surprised by the level of interest they've received over lockdown.
"There's been a marked increase in customer demand across all HARO products but in particular, parkettmanufaktur. People are drawn to the enduring charm of timber and its aesthetic appeal. They also want the assurance of durability that this premium German product provides.
"With HARO Flooring they get the best of both worlds, with our range of handcrafted vintage wood veneers, in some cases as much as 200 years old, coupled with the technological advances of being able to use our products with underfloor heating systems, up to 29°C."
All HARO Flooring New Zealand products carry a 30-year structural warranty and Richard says they're no more difficult to install than regular flooring especially when utilising the services of a HARO-certified installer.
Learn more about premium Engineered Timber Flooring.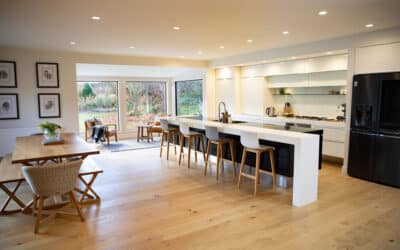 HARO Flooring's Solution to Changes to NZ Building Code E3 AS1 Relating to Timber Flooring in Wet areas (Kitchens, Laundries, Toilets/Powder Rooms) There were changes to the NZ Building Code that came into effect on 5 November 2021 for all Building Consent...
read more