1. Precious Wood wear layer
Approx. 3.5 mm (1/8'') thick top layer of selected precious wood. This is the top layer of a multilayer hardwood floor. It consists of carefully selected premium wood that has been well seasoned and dried and gently processed. Rely on our decades of experience in the production of Wood Flooring and enjoy the good feeling that you made the best choice.
2. Middle layer
Solid spruce finger strips as middle layer. This layer consists of cross-glued solid spruce finger strips which ensure the lifelong stability of HARO Engineered Wood Flooring. Though invisible from the outside, this layer is very labour and time-intensive to manufacture. We use only spruce of the same wood moisture content and the same orientation of annual rings. This is essential to guarantee that your hardwood flooring will remain stable. The task of the middle layer is to balance tensions in the top layer and thus guarantee maximum dimensional stability.
3. Bottom layer
Softwood backing veneer. A backing veneer made of softwood further increases the floor's stability.
3-layer construction for floating installation, full glue-down installation or installation with self-adhesive ComforTec system
| | |
| --- | --- |
| Top layer (in mm) | approx. 3.5 mm |
| Overall thickness (in mm) | approx. 13.5 mm |
| Surface layer dimensions (in mm) | 180×2200 |
| ComforTec | optional |
| Silent Pro | optional |
| Installation system | Top Connect |
| Sandability | several times |
| Installation height / series | 4000 |
Multilayer: Good Choice!
The wood floor multilayer construction with grains running in different directions reduces the natural swelling and shrinking of the wood by up to 70%.
And compared to solid wood floors, multilayer wood floors is also a better choice in terms of sustainability, eco-friendliness, and price-performance ratio.
Solid wood floors have some major drawbacks. Humidity fluctuations can cause the wood to warp, uneven subfloors require time-consuming sanding prior to installation, etc. In addition, a large amount of precious hardwood is needed to produce just a few square metres of flooring. Multilayer hardwood floor from HARO easily solves these issues by using a balanced 3-layer construction.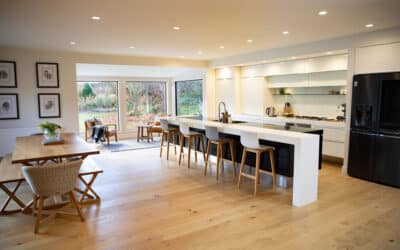 HARO Flooring's Solution to Changes to NZ Building Code E3 AS1 Relating to Timber Flooring in Wet areas (Kitchens, Laundries, Toilets/Powder Rooms) There were changes to the NZ Building Code that came into effect on 5 November 2021 for all Building Consent...
read more