Laminate Flooring
Explore Over 400 Design & Colours
Beautiful, hard wearing, modern and easy to maintain; that's what our laminate floors are known for. Germany's leading parquet specialist offers a wide choice of high quality laminate floors for every application. HARO premium laminate flooring is above all a quality product compatible for residential and commercial application. Beautiful from the outside, quality on the inside; the 'click together' boards will retain their brilliance even after years of use thanks to their ability to withstand heat and UV light. Scroll down to see our carefully curated HARO Flooring New Zealand Range.
View Collection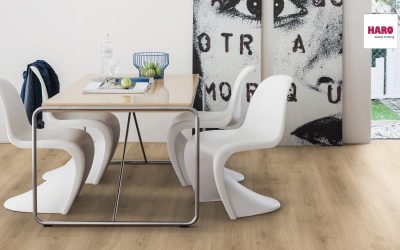 Specially Impregnated Laminate Top Layer Maximum UV resistance and durability for your laminate floor Brand-name quality means more to us than just producing Premium-Quality Laminate Floors. We take care of everything and always place value on Innovation. We want to...
read more
Laminate Flooring Board Format
CAMPUS 4V
The trendy one. The format of the Campus boards is a fascinating combination of the generous 243 mm width and the classic 1282 mm Plank 1-Strip length. The bevelled edge on all four sides creates a striking texture.

Board dimensions: 8 x 243 x 1282 mm 
Plank 1-Strip
The classic one. Particularly popular because of its spacious visual impact. The Plank 1-Strip offers perceptible spaciousness for a host of different room situations. Even small rooms can appear really spacious.

Board dimensions: 8 x 193 x 1282 mm