LAMINATE FLOORING
Alpine Oak Nature
authentic matt 
Campus 4V
 Delivery to site    25 Year Warranty    Underfloor Heating Compatible
Beautiful, hard wearing, modern and easy to maintain; Alpine Oak Nature is a beautiful laminate floor in our New Zealand range. that's what our laminate floors are known for. Germany's leading parquet specialist offers a wide choice of high quality laminate floors for every application.
HARO premium laminate flooring is above all a quality product compatible for residential and commercial application. Beautiful from the outside, quality on the inside; the 'click together' boards will retain their brilliance even after years of use thanks to their ability to withstand heat and UV light.
DID YOU KNOW? The HARO Accessories range includes many useful care and installation products for your laminate floor.
TIP: HARO Laminate Floor with Silent CT – the quietest laminate TIP floor in the world; 60% quieter than standard laminate floors.







– ID No: 532063

– Colour: Natural

– Wood: –

– Surface Texture: authentic matt

– Surface Finish: –

– Format: Campus

– Pack Size: 8 planks per pack (2.49m²)

– Dimension (HxWxL): 8 x 243 x 1282mm

– Installation: Floating

– Bevel: 4 side (4v)

– Warranty: 25 years
By now, HARO Laminate Floor has been a lasting success story for 25 years. This is not only due to particularly authentic wood reproductions that are almost indistinguishable from the original, but also because of the elaborate technical construction of our laminate floors. Do not expect anything less than Highest Premium Quality for lasting joy with your HARO Laminate Floor. 

1. Overlay, specially impregnated (durable protective layer)

2. Decorative laminate, specially impregnated

3. aquaResist® special moisture control HDF E1 coreboard

4. Balancing laminate
Your dream floor is just a click away!

Install HARO floors virtually in your home with just a single click.

1.  Tap take a photo
Take a photo of your room or browse your photo library then select upload

2.  Select product
a. Select "Change Product"  and toggle around to see different options in your space!
b. If you now the floor you like insert the 6 digit ID Number.

3.  Bookmark, share or print!
Contact Us, Get a Quote
We are here to answer any questions you may have about HARO and our floors.
Reach out to us with the form below,  and we'll respond as soon as we can. Ask us for free quote, floor samples, catalogues or advice from our experts.
Stair Nosing

HARO stairs make a stunning feature in any home or building.  We have matching stair noses for every floor we produce – timber floors, laminate floors and Disano design floors.  We also have timber side trims for open-sided stairs. Having your floor continue up the stairs gives the eye a seamless flow of design and connectivity.
    

Care & Cleaning

Natural floor care is an important topic for us at HARO so that you get to enjoy your floor for as long as possible. The composition of our products fulfils high ecological standards and they are also especially easy to apply. Our "Clean and Green" floor care range is the answer to easy, effective and eco-friendly cleaning and care of your flooring. We have the best cleaner for timber and laminate flooring. You can also download our tips & instructions on how to clean wooden floors & laminate floors.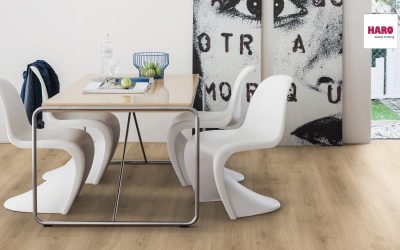 Specially Impregnated Laminate Top Layer
Maximum UV resistance and durability for your laminate floor
Brand-name quality means more to us than just producing Premium-Quality Laminate Floors. We take care of everything and always place value on Innovation. We want to make the installation and use as easy and comfortable as possible for you. Moreover, we want to make it possible for you to contribute to Maintaining your floor's value by using our care products. With HARO you will always be in good hands!
read more
authentic
Almost indistinguishable from real wood. Texture and style match perfectly. The gloss level brings a high-finish surface to mind.
authentic matt
Almost indistinguishable from real wood. Texture and style match perfectly. The surface has a natural oil character. The Plank 1-Strip designs also have a slight shine effect in the pores.
authentic soft
Almost indistinguishable from real wood. Texture and style match perfectly. The floor surface is velvety and soft.
Bevelled edge on the long and short sides
The edges are chamfered on both sides and the ends – for an even more vivid and authentic effect. The experts call this "long and short side bevelling".
pores
Slightly pore-textured and silky shine finish.
pores matt
Slightly pore-textured and natural elegant look.
textured
With the feel of real wood grain.
Soft matt
A perceptibly velvety soft surface. Natural matt with a slight gloss effect in the texture.
CAMPUS 4V
The trendy one. The format of the Campus boards is a fascinating combination of the generous 243 mm width and the classic 1282 mm Plank 1-Strip length. The bevelled edge on all four sides creates a striking texture.

Board dimensions: 8 x 243 x 1282 mm 
Plank 1-Strip
The classic one. Particularly popular because of its spacious visual impact. The Plank 1-Strip offers perceptible spaciousness for a host of different room situations. Even small rooms can appear really spacious.

Board dimensions: 8 x 193 x 1282 mm
Bevel
2V : The edges are chamfered on both long sides, intensifying the emphasis of each individual board. This is what we call bevelled edges.

4V : The edges are chamfered on the long sides and the short sides – for an even better effect. The experts call this long and short side bevelling.