Wall Panelling
Stylish Wall Design in Countless Variations
The current trends in interior design. HARO timber wall panelling creates a feature in the room, creating character, warmth and a truly natural look and feel. No matter what flooring you have, you can create stylish accents with a partial wall covering, especially in large rooms. Another possible application of HARO interior wall panels is the cladding & linings of supporting columns and other architectural details. The simplest and fastest system peel and stick wood panels for decorative wall panels & interior wall cladding. No side framing necessary thanks to the thinness of the wood panels. No drilling, nails or screws. Scroll down to see our carefully curated HARO Flooring New Zealand Range.
View Collection
Design Nevada  
(mixed sized boards: 3.7 / 4.7 / 7.3 x 62 x 496mm)
Design Patagonia
(11.2 x 120 x 1000 mm)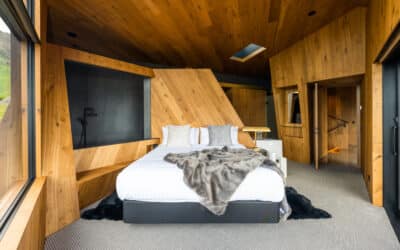 Cloaked in copper and clad internally in HARO engineered timber boards, Mt Isthmus Lodge near Lake Hawea treads the line between wilderness escape and luxury private hotel. Words by Camille Khouri 22 June 2021 Perched high on a 7000-acre remote alpine deer station...
read more