Install your dream floor virtually in your home with just a single click.
Whether parquet, laminate, cork or design floor, thanks to our vast array of designs, you are guaranteed to find a floor that suits your home in our extensive product range. The HARO Room Visualizer assists you in searching for your dream floor. Make yourself comfortable on your sofa with a cup of tea and take out your smartphone, tablet or laptop. You can use the HARO Room Visualizer to install the most varied range of floors in seconds virtually in your home. There is no easier way to find a new floor.
We can reveal here how the HARO Room Visualizer works and what benefits it can offer you when choosing your desired floor.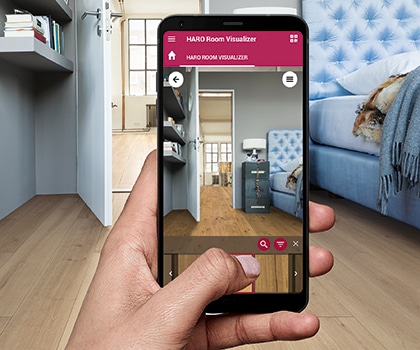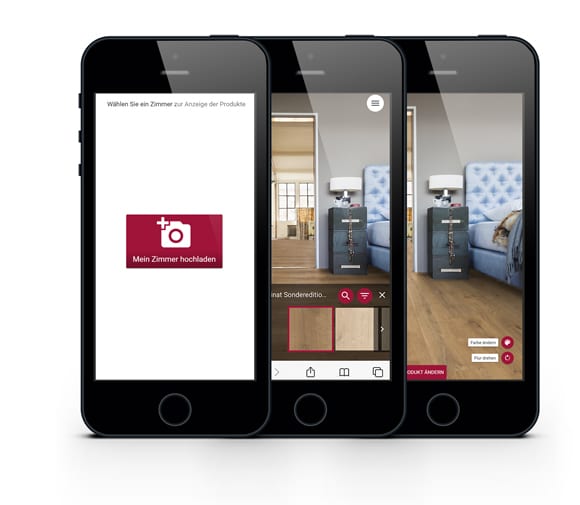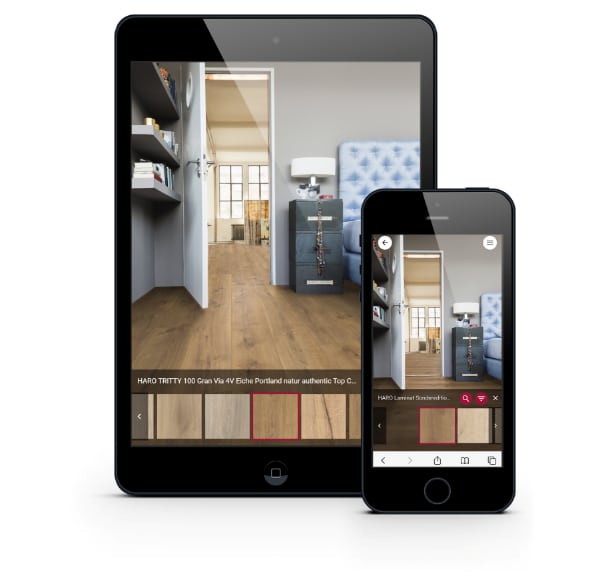 Your dream floor is just a click away
Would you like to test out which floor best suits your rooms? Then install your dream floor virtually with the HARO Room Visualizer – it couldn't be easier. You can call up our visualizer with ease here directly on our website or via the HARO digital! app.
In the HARO digital! app, just choose "Product Search" under "Products" and find your dream floor. The "View in my room" button takes you directly to the HARO Room Visualizer.
Did you know? You can use the HARO digital! app to browse conveniently through our extensive product range. The app provides you with information about formats, colours and surface textures.
How does the HARO Room Visualizer work?
Installing your floor of choice virtually could not be easier thanks to the HARO Room Visualizer. Just take a photo of your room with your smartphone or tablet and upload it. A few minutes later you will see just how your chosen floor would look when installed in your home.
You can judge in just a few seconds whether the colour and format of your selected floor covering actually work in your home. Test out as many floor coverings as you like. Choosing a floor at home from the comfort of your sofa is still the most pleasant option.
Be creative
The HARO Room Visualizer offers you a host of possibilities for finding the perfect floor for your home. Not only can you test which colour or format best suits your personal style, you can also find the optimum installation direction. The visualizer considers each individual detail of the photographed room such as your furniture, the incidence of light and the associated shadowing. You will therefore know immediately how your dream floor should be installed to get the best results.
You can of course send the picture of your designed room directly via e-mail or print it out. This is a really easy way of involving friends and family in the decision-making process.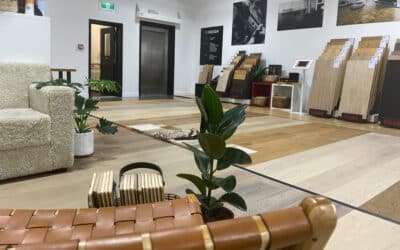 Finding the correct space to showcase all of these offerings was a challenge — but HARO persisted in its search for the right fit. 159Design Words by ArchiPro Editorial Team 05 May 2021 - 3 min read For companies within the architecture and construction industry,...
read more