Innovation
HARO has stood for quality and innovation for more than 150 years and that strives to make life and living in the home more comfortable and pleasant with beautiful and natural flooring. Discover vibrant HARO Parquet, robust HARO Laminate, natural HARO Cork and the hard-wearing, healthy living DISANO design floor. Scroll through HARO's production innovations as well as its classic floors.
Innovation built on tradition
Our natural HARO floors not only reflect the many years of experience and high quality standards of a medium-sized family business, rather also countless innovative solutions that create added levels of comfort in installation, care and use of floors. Take for example our glueless installation systems, our high-quality surface treatments and comfortable insulation underlays, our trailblazing, ultra-modern moisture protection systems and much more. Developed and manufactured with dedication and commitment, our employees continually find new ways to produce innovative and ecological flooring made from the raw material wood to bring you much pleasure. Employees who also set standards – not only in the home but also in commercial properties or as sports floors that are suitable for first level competition, for example as sports parquet at the Olympic Games or at basketball play-offs.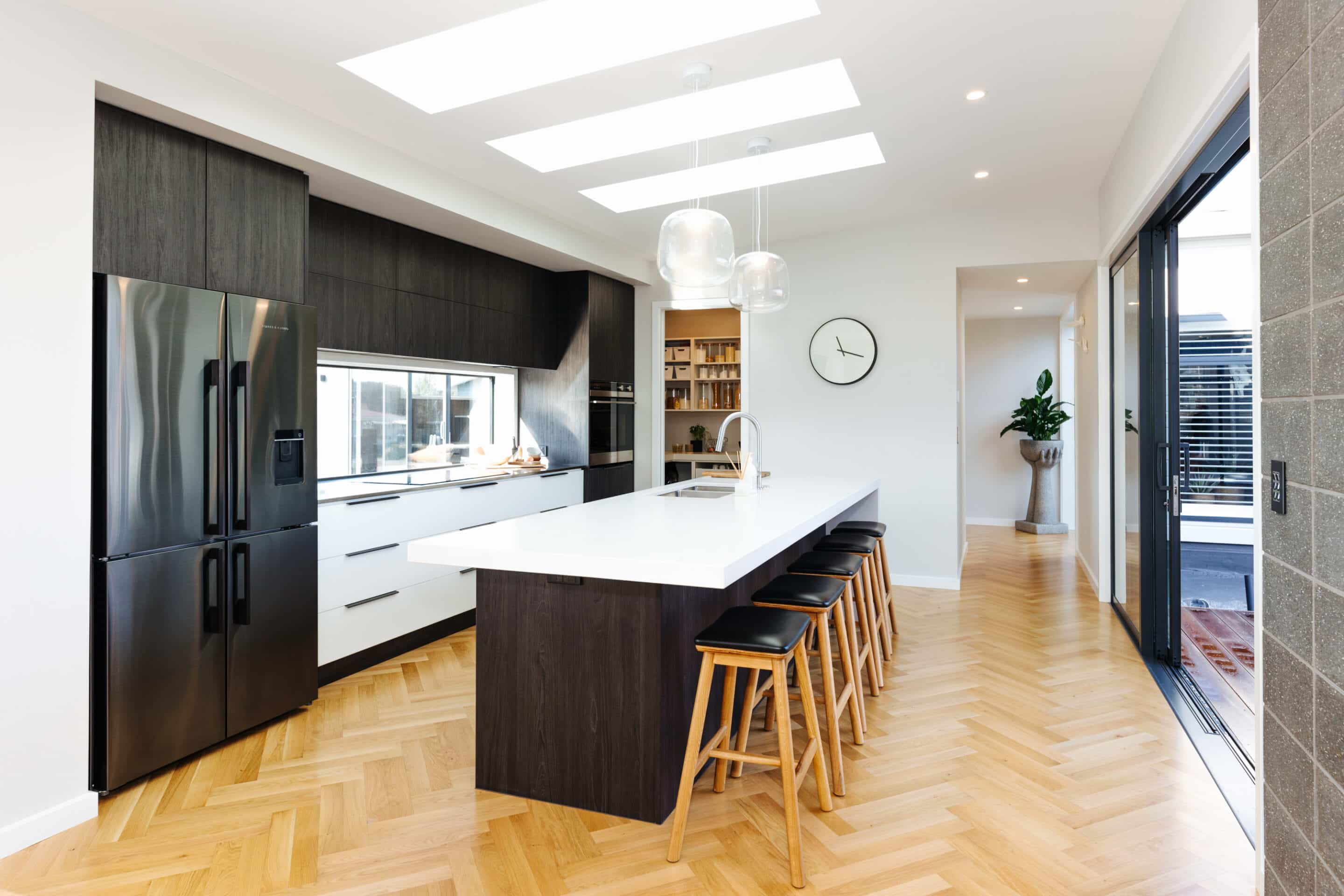 Brand new!
The interpretation of current trends and new products that capture the spirit of the times makes our product range especially vibrant and innovative. Discover current innovations in our innovations newsroom. Our latest innovations »
Discover the look of a HARO floor in your home with just a single click
Sit back and choose your ideal floor from the comfort of the sofa with the "HARO Room Visualizer" from Germany's leading parquet floor manufacturer and experience a new dimension when choosing your perfect floor.
Rosenheim – The days of trekking through countless showrooms in search of inspiration when searching for the right floor are now a thing of the past. And it's all thanks to the new HARO Room Visualizer. In seconds you can install the widest range of HARO parquet, design or laminate floors virtually from the comfort of home and see what suits your rooms best. Never before has it been so easy and convenient to make a good decision in such a relaxed way.
The HARO digital! app already allows interior designers, renovators and building owners to search through the extensive range of HARO premium floors on their smartphone or tablet and find the information they need in relation to formats, colours and surface textures. Now they can also directly install the desired floor virtually at home. This is possible thanks to the brand new and forward-looking HARO Room Visualizer, which is available straight away via the HARO digital! app (download via Google Store or Apple Store) or via the HARO website (haro.com).
Take and upload photos and install floors
It couldn't be easier: just choose "Product Search" under "Products" in the HARO digital! app, pick the desired floor and select the "View in my room" button to access the HARO Room Visualizer directly. Take a photo of your room using your smartphone or tablet, upload it directly and within seconds see how your chosen floor will look when installed perfectly in your own home. You can immediately judge whether the colour, format or texturing of the floor will create the look you desire to suit your living surroundings.
The Visualizer naturally takes account of the individual details of your apartment, such as furniture, incidence of light and the associated shadowing. Change the direction of installation of the floor with ultimate ease, involve friends in your creative decision-making, send the photo to your partner via mail or simply print it to assist with the remainder of the decision-making process. You can also have an original sample sent to your home from the HARO sample shop and let the sense of touch of your chosen floor win you over. And as you take on the role of creative floor designer, you can rest assured that you are getting precisely the floor you want for your home for the money you are paying.
Download the HARO app now or go to haro.com
Immerse yourself in HARO's interactive world of experience and download the HARO app now from your App Store or access the new HARO Room Visualizer directly here »
Put your trust in a strong brand Made in Germany when purchasing your floor and rely on HARO – Germany's leading parquet brand.