Sourced from sustainably managed forests in Europe.
Words by Justin Foote – Archipro
In 1866, Franz Hamberger founded a small sawmill near Rosenheim, Bavaria and began manufacturing matchsticks. Over the ensuing decades, the company grew and diversified until it had four distinct divisions, including a flooring division established in 1950.
Since then, the company has grown to become one of the largest manufacturers of parquet flooring products in Germany and one of Europe's leading providers, supplying a range of products under the brand name HARO.
"The HARO brand has become synonymous with quality engineered flooring that is both beautiful and sustainable," says
 

HARO Flooring New Zealand

 

Operations and Sales Manager Richard St John.
Leaving as light a footprint on the planet as possible
"It is becoming more and more important for future generations and for the planet that we act responsibly now and a large part of that for business is to advocate for sustainability across all facets."
"Sustainability is the foundation on which we build our future and not just environmental sustainability, which is why our parent company is ECO Institut-, PEFC- and Blue Angel-certified, as well as ISO 9001, 14001 and 50001 certified. Also, it is a member of the European Federation of the Parquet Industry (FEP).
"We view our raw material as being a gift from nature and we want the forests we source our timbers from to still be there for future generations. To that end, Hamberger Industries participates in a comprehensive regeneration programme, harvesting only the same amount of timber as it replants.
"Furthermore, the processing facility has its own biomass and hydropower plant onsite. This means we use a particularly environmentally-friendly and sustainable resource—including using sawdust and wood waste—to generate electricity, 60 per cent of which is used by the company while the remaining 40 per cent is funnelled back into the national grid saving over 70,000 tonnes of carbon emissions.
"In New Zealand, we are proud supporters of the Trees That Count programme, an initiative of Project Crimson/Tindal Foundation that aims to plant 200,000,000 native trees across the country.
"This regard for the environment permeates all aspects of the business, even down to our floor care products, the composition of which fulfils high ecological standards and our recycled sample boxes and associated collateral."
"We view our raw material as being a gift from nature and we want the forests we source our timbers from to still be there for future generations"
Feel-good feeling: eco-friendly flooring that doesn't skimp on performance
HARO engineered flooring comprises a spruce core with a 3.5mm oak veneer overlay, which are adhered together using natural glues.
"The use of a 3.5mm overlay is two-fold. Firstly, it requires less raw material in the form of oak timber, helping to preserve natural resources and, secondly, it provides a substantial enough top layer that is robust enough to be sanded back if the surface becomes scratched or damaged over time," says Richard.
HARO engineered flooring also features a proprietary four-sided locking system that facilitates quick and easy installation.
"The HARO locking system requires no glue for fixing, which not only means that there is no harmful VOC off-gassing to worry about but also that the floor is ready to walk on immediately following installation.
"Additionally, it can be laid directly over existing floor coverings and all common sub-floors and is suitable for use with underfloor heating systems. Best of all, it comes pre-finished so there is no sanding, staining or lacquering required."
As well as the engineered timber flooring range, HARO offers laminate flooring, which is compatible with residential and commercial flooring needs, as well as the Disano range, an alternative to vinyl flooring. Disano is water resistant and 100 per cent PVC and plasticiser free.
Learn more about engineered flooring products.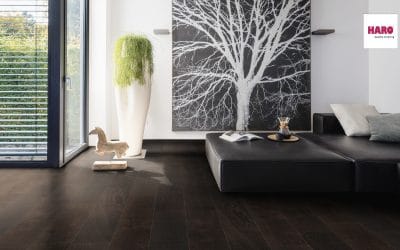 Rosenheim – HARO wins over consumers. More and more shoppers today look beyond the price tag when they make their buying decisions. For years now, one of the other factors they consider in these decisions is whether a company is sustainable and is widely known for...
read more