Natural floor coverings are not only easy on the eye, they're also durable and easy to clean – benefits that stem directly from Mother Nature herself.
Real wood plays a leading role here, of course. There's an increasing trend towards wide planks in timber flooring, where timber can play up its natural flair and flaunt its attractive grain patterns. Wood returns to its own true nature, with the vintage look adding to its charm.
Oak remains the timber of choice, and the darker hues have often been oiled, stained, smoked or thermally treated. Such timber makes a striking counterpoint in light-flooded rooms. But new, lighter shades of oak are also finding a growing number of enthusiasts who opt for white-oiled or limewashed flooring, for example. The process of spreading lime powder on the timber and adding oil as a binder strongly enhances the surface structure of the wood, giving it an almost antique character. 
Affordable natural stone – thanks to high-tech
Natural stone, long regarded as gaudy and ostentatious, is now revealing its original character in a stronger form, with trendy sedimentary rocks such as travertine, limestone and sandstone displaying their light-coloured, matt surfaces. And, thanks to diamond saws and modern production techniques, this most ancient of all floor coverings is now more affordable than ever. Natural stone's high thermal conductivity is a further advantage, making it the perfect material for underfloor heating. Stone is able to store heat for long periods and distribute it evenly across entire rooms.
Renaissance sparked by positive ecological balance
The trend back to nature doesn't just come with soft, fluffy textures. It also has its purist forms as well. One natural, no-frills material that promotes a healthy living environment is an old friend of ours: linoleum. It disappeared from the public eye for quite some time, but is now making a comeback in our living areas – offering fresh, new colours and a trendy image. This floor covering has great durability and many other practical benefits. It's robust, easy to clean and feels pleasantly warm underfoot.
The growing interest in ecological building materials is leading to a renaissance for another nearly forgotten floor covering: cork. If you still associate cork solely with pinboards, think again! Thanks to innovative printing techniques, manufacturers are bringing cork back in lively colours and unusual designs. The comfort factor is one of the main arguments for cork: It's naturally warm, quiet and relieves strain on our backs and joints.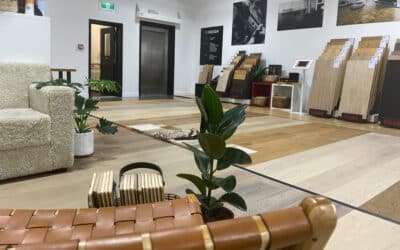 Finding the correct space to showcase all of these offerings was a challenge — but HARO persisted in its search for the right fit. 159Design Words by ArchiPro Editorial Team 05 May 2021 - 3 min read For companies within the architecture and construction industry,...
read more