Unique and classy
Dining Wood Tables from original HARO Timber matching your HARO Timber Floor or deliberately contrasting – a completely new development from Germany's leading timber manufacturer that seems natural. Someone who knows what a stylish timber floor has to look like also knows which table would match. This not only makes it possible to design the room in a contemporary fashion, but it also enables the interior design to be perfectly matched in order to achieve a harmonious and comfortable home or to set unprecedented accents through the contrast with the table.
An eye-catcher with personality
You can choose from three classic dining table dimensions: 180 x 85 cm, 200 x 85 cm or 260 x 100 cm. Combine it either with the sophisticated black steel look or a stylish stainless steel frame and your HARO Table is ready. A table as it should be. For the moments in life that really count.
Its strength lies in the detail: A HARO table is always unique. As wood is a natural product, no two timber planks are the same. The table top is made of original HARO Timber Flooring and is therefore unique. We offer only the most precious timber for the table top. By selecting the same timber as on the floor, you can reinforce the visual impression of the room. Or you can deliberately create a contrast that immediately catches the eye.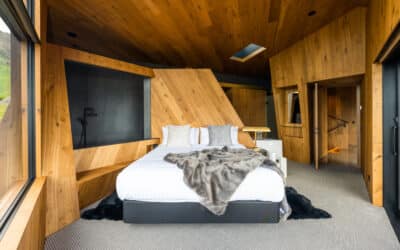 Cloaked in copper and clad internally in HARO engineered timber boards, Mt Isthmus Lodge near Lake Hawea treads the line between wilderness escape and luxury private hotel. Words by Camille Khouri 22 June 2021 Perched high on a 7000-acre remote alpine deer station...
read more