Vinyl Flooring Was Yesterday!!
DISANO Flooring, Modern, Healthy Design Floor from HARO
HARO's design floor is the ultimate in healthy living
Our DISANO design floors are completely free from plasticisers and PVC. This is also their unrivalled advantage compared to vinyl floors, which are currently available as a new variant of PVC floor coverings and still contain plasticisers. Our understanding of healthy living conflicts with the use of these materials that are hazardous to health. Unlike vinyl floors, therefore, DISANO design floors have been awarded the Blue Angel and Eco label. Your guarantee of healthy living for a more beautiful home.
DISANO by HARO – Superior in every way
Colour Changes
The UV radiation in sunlight can seriously discolour vinyl floors. DISANO retains its colour over its entire lifetime.
Dimensional Stability
Vinyl floors react to warmth, e.g. through exposure to sunlight, by bending. DISANO, by contrast, remains dimensionally stable
Embrittling
The plasticisers in vinyl floors lose their effectiveness in the course of time. This can cause the floors to become stiff and brittle.
Disposal 
Vinyl floors (e.g. surplus quantities or cut-offs following installation) must not be disposed of with domestic waste. DISANO on the other hand can be disposed of harmlessly with domestic waste.
Dents caused by furniture
Dents are caused in the floor by furniture or chair legs. These dents remain in the case of vinyl floors and do not reshape. These indents remain visible when the furniture is moved. This is described as "cold flow". DISANO on the other hand is pressure resistant and withstands even heavy furniture.
Strong arguments over vinyl floors
You'd prefer not to live under the same roof as PVC and plasticisers? Have no fear, our design floors have absolutely nothing in common with vinyl floors, which even today still contain a high percentage of PVC and plasticisers. We at Hamberger Flooring GmbH & Co. KG are committed to healthy living. That's why harmful substances are frowned upon by us. The sustainable quality of our DISANO design floors is confirmed by the Blue Angel and the Eco Label.
Our design floors bring healthy living into your home. They also have many advantages compared to vinyl. When the warm rays of the sun flood into your home, that's a good reason to be cheerful – at least when you have opted for a design floor from HARO. That's because the UV rays in sunlight can cause no harm to DISANO. In contrast to vinyl floors, which can discolour and bulge, our floor coverings keep their shape and colour over their entire lifetime. When the plasticisers in vinyl lose their effect over time, the floor becomes brittle. You can therefore rest happy when you have opted for a DISANO design floor. Our surfaces remain soft and elastic.
Dents and imprints caused by furniture are a thing of the past with DISANO. Your new design floor is dimensionally stable. Because there are no plasticisers, dents reshape again after a short time. Even light unevenness in the subfloor is smoothed by DISANO thanks to its structure.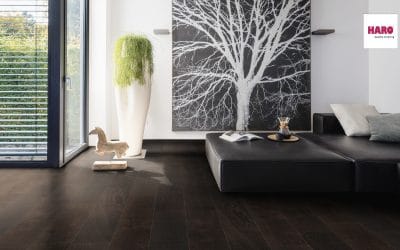 Rosenheim – HARO wins over consumers. More and more shoppers today look beyond the price tag when they make their buying decisions. For years now, one of the other factors they consider in these...
read more