Your content goes here. Edit or remove this text inline or in the module Content settings. You can also style every aspect of this content in the module Design settings and even apply custom CSS to this text in the module Advanced settings.
For many of us, pets are best friends – but again and again, we realise that the needs of both are, well, different when it comes to the living environment. A Bernese mountain dog, for instance, does not care whether it brings piles of mud and soil into the house after a long walk through the woods. And a Persian cat sees no problem in sharpening its claws on the carpet-covered steps instead of the cat tree. Well, that is just what our four-legged friends are like.
We can make life with our beloved pets a lot easier if we prevent this kind of problem right from the start – by choosing the right flooring. It is important to keep the needs of both humans and animals in mind. The former want a beautiful, comfortable and clean home, the latter need just as much comfort, but also a lot of space to move. This is why some floor coverings are more suitable than others.
Suitable flooring for living with pets
wood floors are easy to clean and pleasant to walk on. With a varnished surface, they are also particularly durable and resistant to abrasion. The claws of large dogs that like fast starts can still leave marks after a while. However, it is possible to sand the wood floor and apply a new finish. The alternative is oiled wood. It is not quite as hard-wearing, but sometimes scratches can be repaired.
Design floors are a good compromise, as they combine a beautiful wood look with an indestructible surface that can easily be cleaned and is non-slip at the same time.
The same applies to laminate floors. However, it is important to be a bit careful when using water for cleaning. Another important aspect: Laminate floors should not have a completely smooth surface, but instead a rough one with a slight texture. Another advantage for pets in summer is that it has a cooler surface than wood.
Less suitable flooring 
Carpeted floors are comfortable for cats and dogs, but muddy paws after a walk or small 'mishaps' after having eaten something disagreeable can leave lasting marks. Carpet floors are also popular for sharpening the claws, which is not particularly good for the flooring.
Tiles, on the other hand, are very durable and easy to clean. Pets also love to use them for cooling off in summer. What they do not like at all is the slippery surface. A quick sprint to the door can easily end with a painful belly landing.
Cork is pleasant for pets' paws, but will not withstand claws for a long time.
By the way: What is appreciated by pet owners can also be of great benefit for parents…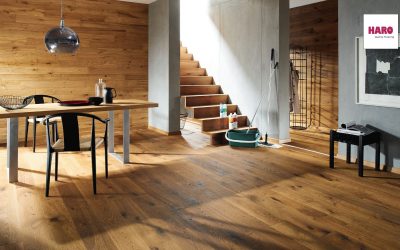 Premium parquet from Germany's market leader. Founded in 1866, the Hamberger family business is the leading parquet manufacturer in Germany with its HARO parquet brand, thanks to a unique range of products, more than 60 years' experience in the production of parquet and a commitment to the Made in Germany principle as the location for its production.
read more