All About DISANO
Five Reasons Why You Should Opt For A DISANO Floor.
1. Pleasant warmth and comfort
Thanks to the multi-layer structure, the carefully selected materials and the SilentSense surface, your feet will never be cold with this floor.
2. Suitable for wet rooms
The waterproof DISANO variants, as well as the moisture-resistant SmartAqua and Classic Aqua variants, can even be installed in the bathroom.
3. A floor that can withstand all hardships
Our design floors can withstand even the unruly gang at the next children's birthday party.
4. Floor care has never been so easy
Quick wipe with the mop and your floor will be gleaming like new in seconds. For best results, we recommend our clean & green care series.
5. Soft yet stable at the same time
Just like cork, DISANO is also pleasantly soft. The elasticity of the floors ensures a pleasant walking sensation. What's more, the floor is protected from dents and moisture by the SilentSense surface.
WARM TO THE TOUCH
The use of carefully selected, healthy materials – structured in multiple layers – is what makes DISANO flooring so warm and pleasant to the touch.
ALSO FOR DAMP ROOMS
There is now a waterproof DISANO versions (Saphir) and a Classic Aqua with moisture protection, both all of which are approved for use in damp rooms (including the bathroom).
PET FRIENDLY
Living with a dog or cat is a challenge for any home, particularly for the flooring. It's choice not only depends on the design and how easy it is to clean, but also on the animals' safety.
DURABLE
DISANO by HARO is incredibly durable, even when exposed to intensive wear and tear, for example in entry areas or when used in commercial applications.
SOFT
Thanks to the additional ElastoTec layer, DISANO Classic Aqua provides a pleasantly soft walking feeling and even more elasticity.
EASY TO CLEAN
With our clean & green care series, the regular, effective and gentle care of DISANO Design Floors is child's play.
HARO's 100% PVC- and plasticiser-free design floor for healthy living
DISANO – HARO's PVC-free design floor for healthy living: a sophisticated combination of innovative materials and thus, a floor covering meeting the requirements for ecology and a healthy living environment.
DISANO fulfils the promises of vinyl flooring and translates them into a healthy living environment. This newly developed eco-friendly floor solution from flooring specialist HARO is produced from innovative materials that ensure that the product is completely free from PVC and plasticisers. The product thus also meets the stringent emission limits required by the 'Blue Angel' eco-label. 
DISANO by HARO is 100% PVC-free and plasticiser-free – and has everything it takes to add that natural feel-good factor to any room. Over two metres long and 24 centimetres wide the planks create a spacious visual effect, which is further enhanced by the bevelled edges on all four sides.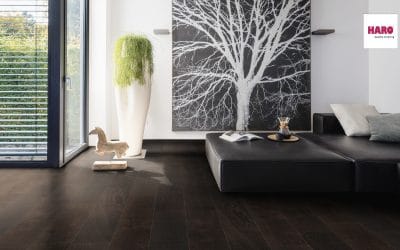 Rosenheim – HARO wins over consumers. More and more shoppers today look beyond the price tag when they make their buying decisions. For years now, one of the other factors they consider in these...
read more