An homage to life and the living world is turning into a trend. The longing for nature is deeply embedded in us. Biophilic design is an innovative way of incorporating nature into the design of the places where we live, work and learn. Biophilic design pays tribute to humans' innate affiliation with nature and the living world. It has a demonstrable positive effect on people and their environment.
We long for natural and familiar surroundings, for open and sheltered spaces. But we have designed our cities and buildings to displace landscape, making natural things seem strange and out of place. Using natural patterns, shapes and materials, biophilia brings nature back to architecture and interior design.
Biophilic design creates a visual and emotional affiliation with nature by incorporating fresh air, many glass and water elements as well as materials with patterns and features that remind us of nature. The result is a unique architecture that has either been fully integrated into the existing landscape or blends in with the scenery in shape, colour and building materials.
Harmony of aesthetics, utility and nature
In a biophilic interior, wood floors with a vibrant surface texture are an example of how to add a touch of nature. People often like to have them installed directly from the interior out to the patio, separated only by a large glass facade. This way it looks as if the floor boards bring the natural landscape directly into the house, soaking up the freshness of nature outside and releasing it inside.
Biophilia is a trend in architecture and interior design that embraces the ecological aspect creates innovative and individual interiors and brings demonstrable benefits. Simple biophilic design features introduced in companies have shown a positive effect on profit development and on the well-being of employees. Patients in hospitals recovered more quickly and students showed a better learning behaviour in a biophilic environment.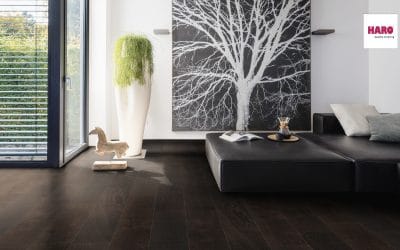 Rosenheim – HARO wins over consumers. More and more shoppers today look beyond the price tag when they make their buying decisions. For years now, one of the other factors they consider in these...
read more