3 Stylish Ways to Complement Hardwood Flooring
Boasting an unrivalled elegance and classic aesthetics, it's no surprise that wood flooring has remained amongst the most popular interior flooring options for centuries. But with consistently evolving decor trends, it can be hard to know how best to complement your hardwood flooring without sacrificing the traditional style we all know and love.
Harmonise your interior
With some smart and considered interior choices, you can turn your hardwood flooring into a statement element of your home. The best way to do this is to consider the surrounding interior and harmonise your flooring with the rest of the room.
The most effective way to implement this technique is through the incorporation of a logical colour scheme. Not only will this bring a defined harmony to your space, but it's also a unique way to bring out the richness and versatility of your wood floor.
Though it might sound contradictory at first, you can achieve this harmony through the use of contrasting shades. For example, the healthy and organic style projected from natural cork flooring paired with a similar, neutral colour scheme and decor would compromise the authentic aesthetic. Instead, complement the style through the use of darker, more defined shades that subtly contrast to create interior consonance.
Mix, don't match
When it comes to decor, look to mix up materials and textures. Though it may be tempting to style your wood flooring with a variety of wooden furniture to amplify the traditional aesthetic of your space, this can often come across as forced and overpowering.
Instead, look to use wood furniture sparingly as an understated reinforcement of your wooden flooring. Solid parquet sanded to a natural finish within the kitchen of your home, for example, would be overshadowed by the incorporation of a large wooden dining set. Instead, think on a smaller scale; small yet effortlessly stylish occasional tables will create an effortless harmony between furniture and flooring without being too much of a distracting focal point.
Get creative
Most of the time, your hardwood flooring will do the talking on its own. However, this doesn't mean you can't get creative, adding extra texture to turn your floor into a real interior statement.
Our top tip here is to use a decorative rug, particularly on vast, empty areas of wooden flooring. While visually striking wood flooring like Disano by Haro is able to act as a statement in itself, more natural flooring would benefit from the added aesthetic of a tone-complementing rug. Not only does this add an extra layer of refined style to your interior, but it also doubles up as a protective and insulating layer, ensuring your wood flooring remains a prominent feature in your home for years to come.
Author bio:
Angus Ponsford is the Director at Ponsford Ltd, an independent, family-run furniture retailer that boasts a huge selection to suit every style and budget.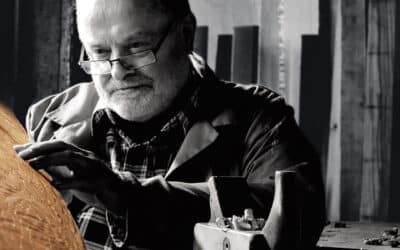 Parkettmanufaktur: Bespoke floors for a discerning market. Words by Justin Foote 19 February 2021 - 4 min read While we have been using wood and timber as a construction material since the beginning...
read more